Are you addicted to DotA?
And feeling tired have to press the button "Alt" the entire game?
Now you can comfort your hand and enjoy your game with this helpful little software.
What you need to do is download this
Inventory AI+
.
Extract it and you should see a green icon.
Double click on it before you run your Warcraft III.
When the game started, press the "~" key on your keyboard, and you'll see the health bar will turned on for the entire game.
An icon should appear in your program tray, shows that this program has been running successfully
.
And also, this program provide the shortcut keys for your item in inventory slots. You just need to press the "Alt" button and the slot key to activate your item.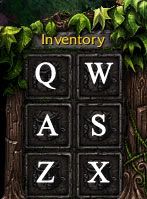 So, if you want to activate your item in the Z slot, just press "Alt+Z".
Anyway, I highly recommended this software for those who still using Warcraft III version 1.21.
Have a great time!