Digsby is a multiprotocol IM client that lets you chat with all your friends on AIM, MSN, Yahoo, ICQ, Google Talk, and Jabber with one simple to manage buddy list. So, we can say that Digsby is "IM+Email+Social Networking" applications.
Digsby's Features
Instant Messaging
One combined buddy list for all your AIM, MSN, Yahoo, ICQ, Google Talk, Jabber, and Facebook Chat Accounts.
You can manage multiple conversations with tabbed conversation windows. You also can drag tabs out into their own windows for important conversations.
Email
Manage your Hotmail, Gmail, Yahoo Mail, AOL/AIM Mail, IMAP, and POP accounts right from Digsby.
You will get popup notifications when new email arrives. Clicking a popup takes you right to the message with auto-login into webmail accounts.
You also can perform actions such as "Mark as Read". ""Delete" or "Report Spam" right from the email InfoBox.
Social Networking
Digsby allows you to add social networking sites to the application:
MySpace: updates to your friends' profiles, status, and private messages. Provides instant access to various parts of your MySpace account, such as your profile, home page, blog, etc.
Facebook: updates in your friend feeds. Digsby now works with both the new and old styles of Facebook.
Twitter: allowing you to easily submit new "tweets", and view your friends' tweets.
LinkedIn: various updates from your friends
You can add and manage your email accounts, social networking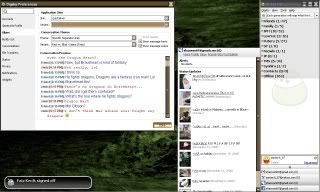 Top Left: Customize you chat windows. Choose which themes you like.
Bottom Left : It's a notification when your buddy goes online or offline. You can change it at the Notification tabs
Middle : It's a Myspace status update. You can see your friends's latest update from here.
Digsby for me is really convenient. Furthermore, you can go to www.digsbies.org and submit a feature request and then other users can vote on it so the developers know which to implement first.


Have a try on this application 1st and I'm sure you'll agree with me! 
Have a nice day with Digsby! :D